LiveOIO 1.0.8 with R for statistics, Live Reports, German + Italian translations
Single bootable CD delivers 100% web-based, integrated data collection and analysis system
Starting with easily customizable web-forms and workflows, this is the first OIO release that achieves seamless integration with statistical routines in R (www.R-Project.Org).
Contact: Andrew P. Ho, M.D. ([email protected])
Free Download of LiveOIO iso image (630MB) or OIO package (2.5MB + more work to install all components) under GPL license.
This is an upgrade release of the Open Infrastructure for Outcomes (OIO) server software, packaged on a remastered Knoppix 3.3 2003/11/19. This release contains both new features and bug fix.
Live Reports
The focus of this release is enhanced reports-generation. Data collected through OIO forms can now be organized and tabulated through 2 separate reporting medules:
Data mining - where data are extracted from forms, transformed, and loading into a new "merged data" table for data analysis. Each "merged data" table represents a snapshot-in-time of the dataset.
Live Reports - where a virtual table is contructed from a set of queries - each query provides a column in the resulting data set.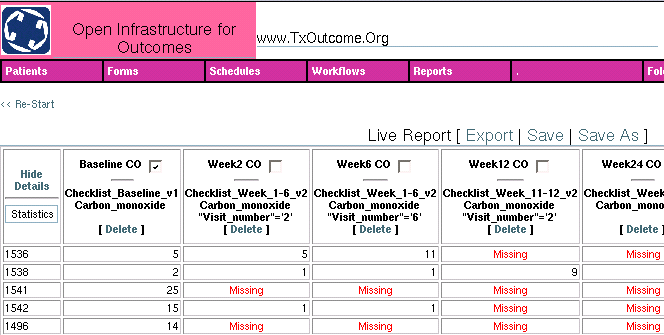 Statistics by R

R offers a rich set of data manipulation and statistical functions. Unfortunately, it is a bit intimidating to use except by expert statisticians. Thanks to Gregory Warnes, Zope applications can communicate with R via the RSessionDA product. OIO-1.0.8 calls R functions through RSessionDA and provides convenient web-interface to sophisticated statistical functions.

OIO-1.0.8 implements 2 statistical functions from R's extensive library as a proof-of-concept and first step towards bringing the full-power of R to wider usage.

Scatter plot with regression line
ANOVA

The statistics module tries to recommend the appropriate statistical method to applied based on the "variables" selected. In the future, we will develop increasingly sophisticated rules to assist data analysis tasks.

Local_Text Thru-the-Browser Translations: German + Italian

OIO-1.0.8 includes Anton Auer's German and Italian translations which he produced using OIO's Local_Text module and exported as XML document. These translations can be imported and merged with other existing translations. LiveOIO-1.0.8 includes German and Italian translations pre-installed.

Acknowledgement
Gregory Warnes (Pfizer) - help with RSessionDA installation
Anton Auer (Seniornet) - German + Italian translations
Dennis Halladay (Somalogic) - testing, bug fixes for Live Reports, input validation, Oracle
Nandalal Gunaratne (Sri Lanka Teaching Hospital, Colombo South) - LiveOIO testing, documentation
David Hindman (Harbor-UCLA) - advocated for and first user of Live Reports