LiveOIO-1.0.9 with conditional question skipping, linked questions, external data import
Bootable CD delivers 100% web-based data collection and analysis system
Starting with easily customizable web-forms and workflows, this upgraded OIO release features a new "Advanced Form Controls" module and the revamped "Data Import" module for point-and-click migration of legacy data into OIO.
Contact: Andrew P. Ho, M.D. (

[email protected]

)
Free Download of LiveOIO iso image (645MB) or OIO package (2.5MB + more work to install all components) under GPL license.
This is an upgrade release of the Open Infrastructure for Outcomes (OIO) server software, packaged on a remastered Knoppix 3.3 2004/02/16. This release contains both new features and bug fix.

Screenshots below are taken from the LiveOIO CD. Simply boot up and click on the "LiveOIO" bookmark.

Related Reading
Advanced Form Controls

Advanced Form Controls is a major OIO feature that has been in development over the past 3 years. Thanks to Richard Wang (American Honda) and Marcus Lopes (WRAP), it is finally production-ready.

The new Advanced Controls for forms provides a user-friendly and 100% backward-compatible mechanism to

Conditionally "hide" or "reveal" Question items
Use the answer to one question to constrain the answer to another question
Specify mandatory questions
Data Import
From delimited (flat-file, CSV), an user-friendly wizard support import of data into OIO forms. Arbitrary mapping between external data and OIO form-questions are supported. Imported data are linked to specific patients/clients if a linking identifier is specified.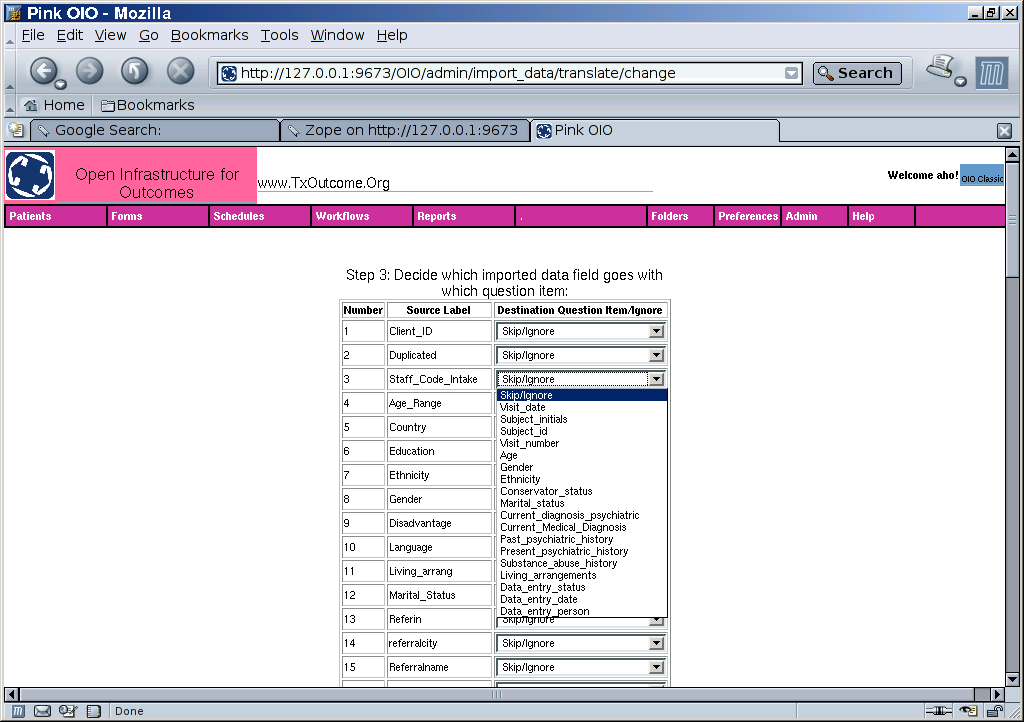 Acknowledgement
Richard Wang (American Honda) - Advanced Form Controls
Marcus Lopes (WRAP) - advocated and tested Advanced Form Controls, Data Import
Alexander Chelnokov (Ural Scientific Research Institute) - advocated for dynamic server ip switching
Dennis Halladay (Somalogic) - disabled use of enter-key for action=except